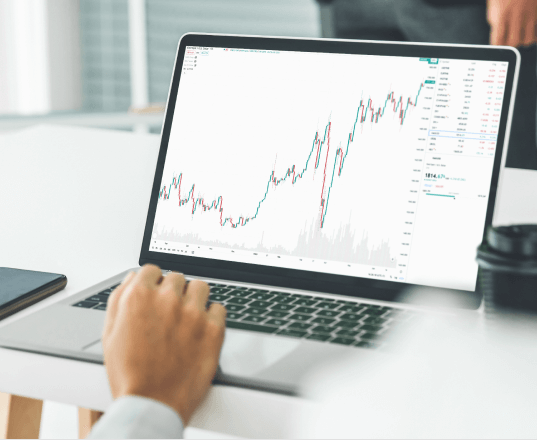 Invest in a wide variety of stocks, available at Fortissio, including Apple, Microsoft and Google.
Opportunities in the stock markets
Looking for opportunities in the stock markets? Here you can trade many of the biggest companies in the world via CFDs, including Apple, Amazon, Google, eBay, Microsoft and more.
The advantages of trading via CFDs
Fortissio offers you the opportunity of trading stocks without actually owning any. What does this mean? All of our stocks are offered via CFDs (Contracts for Difference.) This allows you to trade in the stock market without the many regulations that stock investors often come across. When trading CFDs you simply invest in the expectation that the price is going to rise or fall. You do not buy or sell the actual shares.
Click here for a full explanation about CFDs.
List of Stocks offered by Fortissio
STOCKS
SYMBOL
Trading Hours
Explanation
Apple
AAPL
Mon – Fri 14:30 – 21:00GMT

Read More
Amazon
AMZN
Mon – Fri 14:30 – 21:00GMT

Read More
Boeing
BA
Mon – Fri 14:30 – 21:00GMT

Read More
Walt Disney
DIS
Mon – Fri 14:30 – 21:00GMT

Read More
eBay
EBAY
Mon – Fri 14:30 – 21:00GMT

Read More
Google
GOOG
Mon – Fri 14:30 – 21:00GMT

Read More
Intel
INTC
Mon – Fri 14:30 – 21:00GMT

Read More
Coca Cola
KO
Mon – Fri 14:30 – 21:00GMT

Read More
McDonald's
MCD
Mon – Fri 14:30 – 21:00GMT

Read More
Microsoft
MSFT
Mon – Fri 14:30 – 21:00GMT

Read More
Pfizer
PFE
Mon – Fri 14:30 – 21:00GMT

Read More