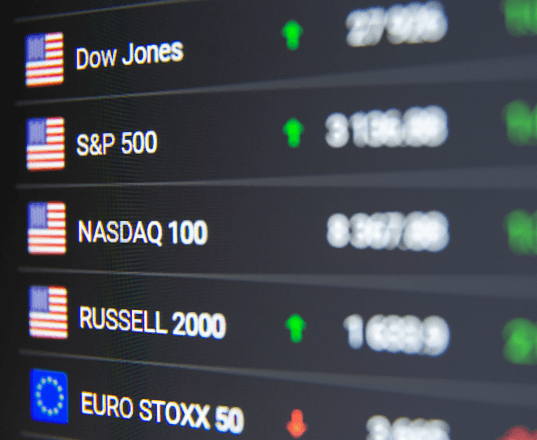 Trading in Indices with Fortissio as a Diversification Alternative.
What are indices
Think of indices as a ''group'' of shares that measures the value of a market sector or industry. For example, the FTSE 100 represents the largest 100 companies traded on the London Stock Exchange. If the share prices of these companies go up – then the FTSE 100 will rise with them. As indices are not actual products, they cannot be traded directly. Instead, investors trade indices through derivatives such as CFDs, futures or options.
Possibility of investment portfolio Diversification.
You should remember however that indices carry risks, like all financial products.
Indices
Trading Hours
Explanation

CAC 40

Mon – Fri 07:00 – 21:00GMT(WINTER)

Mon – Fri 06:00 – 20:00GMT(SUMMER)
Read More

DAX INDEX

Mon – Fri 07:00 – 21:00GMT(WINTER)

Mon – Fri 06:00 – 20:00GMT(SUMMER)
Read More

DOW JONES

Mon – Fri 22:00GMT 20:30GMT
Read More

FTSE 100

Mon – Fri 08:00 – 21:00GMT(WINTER)

Mon – Fri 07:00 – 20:00GMT(SUMMER)
Read More

NASDAQ

Mon – Fri 22:00 - 20:30GMT
Read More

NIKKEI

Mon – Fri 22:00 - 21.00GMT
Read More

S&P 500

Mon – Fri 22:00 - 21.00GMT
Read More

IBEX 35

Mon – Fri 08:00 – 19:00GMT(WINTER)

Mon – Fri 07:00 – 18:00GMT(SUMMER)
Read More

WIG20

Mon – Fri 08:00 – 16:00GMT(WINTER)

Mon – Fri 07:00 – 15:00GMT(SUMMER)
Read More