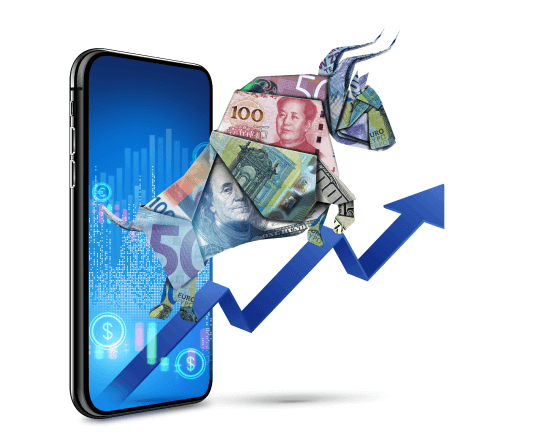 Access all major currency pairs in our trading platform, including the Dollar, Euro and Japanese Yen.
5.3 trillion in daily volume
The Foreign Exchange Market, also known as Forex or Currency Market is by far the largest market in the world with over 5.3 trillion Dollars purchased and sold on average every day.
Trade currencies with us?
We make it possible for you too to enjoy the opportunity of being part of an ever growing online currency market. Join us now and trade Forex via CFDs with a regulated broker.
All major currencies available
As a Fortissio trader, you can choose among the most heavily traded currencies, including the U.S. Dollar, Euro, Yen, Australian Dollar and Swiss Franc. This means you literally have access to trading via CFDs all major currencies available around the world.
Regulated services
Choose to trade with a regulated broker. Fortissio is an EU regulated brand operating under Hellenic Capital Market Commission. This means that all traders enjoy the peace of mind that comes with regulated services ensuring that brokers abide by all laws and financial requirements.
| TYPE | INSTRUMENT |
| --- | --- |
| CFD FX | AUD/CHF |
| CFD FX | AUD/JPY |
| CFD FX | AUD/NZD |
| CFD FX | AUD/USD |
| CFD FX | CAD/CHF |
| CFD FX | CAD/JPY |
| CFD FX | CHF/JPY |
| CFD FX | EUR/AUD |
| CFD FX | EUR/CAD |
| CFD FX | EUR/CHF |
| CFD FX | EUR/GBP |
| CFD FX | EUR/JPY |
| CFD FX | EUR/NOK |
| CFD FX | EUR/NZD |
| CFD FX | EUR/PLN |
| CFD FX | EUR/RUB |
| CFD FX | EUR/TRY |
| CFD FX | EUR/USD |
| CFD FX | GBP/AUD |
| CFD FX | GBP/CAD |
| CFD FX | GBP/CHF |
| CFD FX | GBP/JPY |
| CFD FX | GBP/NZD |
| CFD FX | GBP/TRY |
| CFD FX | GBP/USD |
| CFD FX | GOLD |
| CFD FX | NZD/CAD |
| CFD FX | NZD/CHF |
| CFD FX | NZD/JPY |
| CFD FX | NZD/USD |
| CFD FX | SILVER |
| CFD FX | TRY/JPY |
| CFD FX | USD/CAD |
| CFD FX | USD/CHF |
| CFD CFD FX | USD/JPY |
| CFD CFD FX | USD/MXN |
| CFD FX | USD/NOK |
| CFD FX | USD/PLN |
| CFD FX | USD/RUB |
| CFD FX | USD/SGD |
| CFD FX | USD/TRY |
| CFD FX | USD/ZAR |